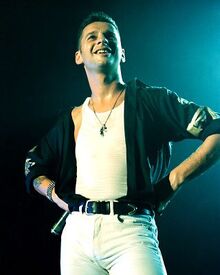 David "Dave" Gahan is an English singer-songwriter. He is the lead singer and He is one of the founding members of of Depeche Mode and also has written some songs for the band.
Life
Dave Gahan was born as David Callcott on May 9, 1962, in Epping, Essex. When he was two years old, his parents Len and Sylvia Callcott divorced. Sylvia married her second husband Jack Gahan and moved together with Dave and his elder sister Sue (born 1960) to Basildon, Essex. The pair got two more children, Peter (born 1966) and Phil (born 1968).
Career
Images
→ see also Dave Gahan/Gallery#Images and Category:Images of Dave Gahan
Videos
→ see also Dave Gahan/Gallery#Videos and Category:Videos of Dave Gahan
Bibliography
External links
Ad blocker interference detected!
Wikia is a free-to-use site that makes money from advertising. We have a modified experience for viewers using ad blockers

Wikia is not accessible if you've made further modifications. Remove the custom ad blocker rule(s) and the page will load as expected.