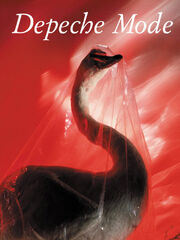 The 1981 Tour was the second concert tour by Depeche Mode.
History
The 1981 Tour begun before the band had released a single or an album. Three singles as well as Depeche Mode's debut album Speak and Spell were released during the tour.
The band mainly toured through England with a few concerts in Scotland, Wales and nearby European countries. The tour began on May 31, 1980 with a concert in Rayleigh and ended on November 16, 1981 with a concert at the Lyceum in London. The tour was followed by a TV show at TVS in Chichester on December 3, 1981.
Lineup
The lineup of Depeche Mode for the entire tour was:
Tour dates
January 3, 1981 at Crocs, Rayleigh, Essex
January 6, 1981 at Bridgehouse, London
January 11, 1981 at Hope 'N' Anchor, London
January 11, 1981 at Rascals, Southend, Essex
February 1, 1981 at Moonlight Club, London
February 2, 1981 at Warehouse, Leeds, West Yorkshire
February 3, 1981 at Limit Club, Sheffield, South Yorkshire
February 9, 1981 at Bridgehouse, London
February 12, 1981 at Moonlight Club, London
February 14, 1981 at The Rainbow, London
February 16, 1981 at Cabaret Futura, London
February 26, 1981 at Lyceum, London
March 24, 1981 at Moonlight Club, London
March 30, 1981 at Flicks, Dartford, Kent
April 2, 1981 at Technical College, Southend, Essex
April 4, 1981 at Thames Boat Trip, London
April 11, 1981 at Crocs, Rayleigh, Essex
April 16, 1981 at Amnesia, Leeds, West Yorkshire
April 23, 1981 at Cedar Ballroom, Birmingham, West Midlands
April 26, 1981 at Lyceum, London
April 28, 1981 at Sweeneys, Basildon, Essex
April 30, 1981 at The Pits, London
May 1, 1981 at Southbank Poly, London
May 3, 1981 at Raquels, Basildon, Essex
May 9, 1981 at Nero's, Cardiff, Wales
May 12, 1981 at The Venue, London
May 25, 1981 at Flicks, Dartford, Kent
June 1, 1981 at Bridgehouse, London
June 2, 1981 at Hammersmith Palais, London
June 27, 1981 at Crocs, Rayleigh, Essex
July 9, 1981 at Regency Suite, Chadwell Heath, Greater London
July 23, 1981 at The Venue, London
July 25, 1981 at Zuiderpark, The Hague, Netherlands
July 30, 1981 at Alexandras, Slough, Berkshire
August 2, 1981 at Jenkinsons, Brighton, East Sussex
August 5, 1981 at Rafters, Manchester
August 6, 1981 at Warehouse, Leeds, West Yorkshire
August 7, 1981 at Nite Club, Edinburgh, Scotland
August 26, 1981 at ICA, London
September 1981 at Lawrence Weston School, Bristol
September 19, 1981 at The Venue, London
September 25, 1981 at Markthalle, Hamburg, Germany
September 26, 1981 at Paradiso, Amsterdam, Netherlands
September 28, 1981 at Disco Rouge, Brussels, Belgium
September 29, 1981 at Bains Douche, Paris, France
October 31, 1981 at University, Newcastle, Tyne and Wear
November 2, 1981 at Coasters, Edinburgh, Scotland
November 3, 1981 at Fagins, Manchester
November 4, 1981 at Locarno, Birmingham, West Midlands
November 5, 1981 at Rock City, Nottingham, Nottinghamshire
November 6, 1981 at University, Liverpool, Merseyside
November 7, 1981 at Polytechnic, Sheffield, South Yorkshire
November 9, 1981 at Locarno, Bristol
November 10, 1981 at Raquels, Basildon, Essex
November 11, 1981 at Top Rank, Brighton, East Sussex
November 12, 1981 at Arts Centre, Poole, Dorset
November 14, 1981 at University, Leicester, Leicestershire
November 15, 1981 at Lyceum, London
November 16, 1981 at Lyceum, London
Videos
External links